The best fragrances for women: Top 10 Women's Perfumes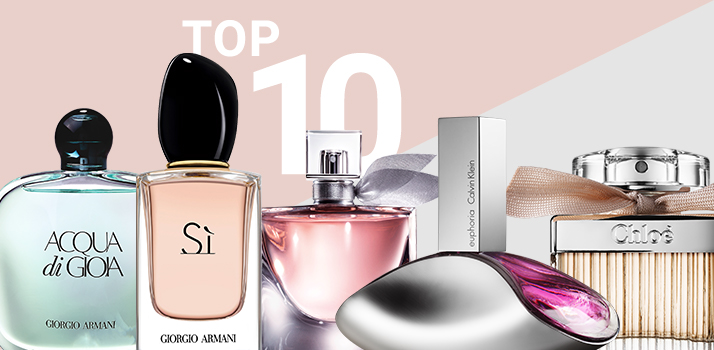 Thousands of perfumes, thousands of different fragrances. It's no surprise that choosing the right one for you takes so long. What about if you're choosing a perfume as a present and have no idea if it's to the recipient's taste? Do not panic. We have chosen the most popular perfumes for women for you that are sure to hit the spot.
The most popular perfumes for women
Distinctive, elegant, seductive and delicate at the same time. These 10 best-selling women's perfumes have become timeless classics that never go out of style. Get to know them better.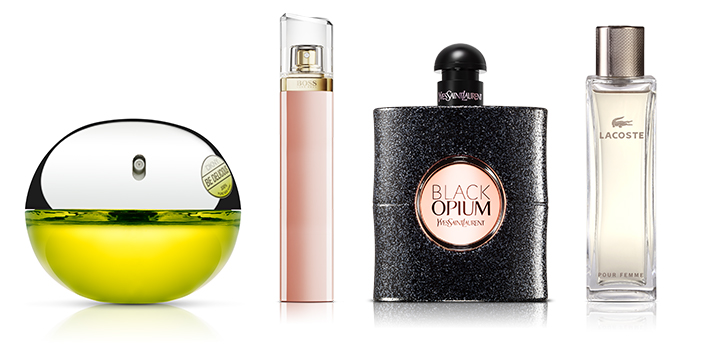 Chloé Chloé
The incredible floral powdery fragrance of Chloé Chloé appeared in 2008 and soon became one of the most popular fragrances for women of all time. Just the sweet little bottle with the bow will capture your attention. Inside is a combination of the most charming of flowers: roses, freesia, lily of the valley and magnolia. An irresistibly elegant combination!
Giorgio Armani Acqua di Gioia
Smelling Giorgio Armani Acqua di Gioia perfume is like breathing in fresh sea air. Remember your unforgettable holiday experiences at the seaside! Refreshing mint and citrus gradually alternate with the delicate scent of flowers with a little spicy pepper. All in a beautifully shaped bottle inspired by a drop of water.
Lancome La Vie Est Belle
Three years of composition, three acclaimed French master perfumers, and around 5000 versions of the fragrance, from which the most delicate fragrance composition was born. Lancome La Vie Est Belle is a real jewel amongst ladies' perfumes. Immerse yourself in a fragrance with a juicy touch of currant, floral essences of jasmine and iris, and the delicious sweet praline at the end! Julia Roberts is the face of this fragrance.
Giorgio Armani Si
Giorgio Armani Si is a luxury perfume with an irresistible floral and woody fragrance and a distinctive touch of blackcurrant and vanilla. Cate Blanchett has lent her beautiful face to it. Say "Si" and immerse yourself in this attractive fragrance with a distinctive Italian style.
Calvin Klein Euphoria
Discover the irresistible touch of the Orient with a modern twist. The fascinating fragrance of Calvin Klein Euphoria rightfully holds its place in the list of top perfumes for women. Immediately on its launch in 2005, it was awarded the prestigious Fifi Award for Best Luxury Fragrance of the Year. Try it and experience pure euphoria.
DKNY Be Delicious
DKNY Be Delicious is a fruity fragrance which is the perfect choice for spring and summer and beyond. The juicy scent of apples and cucumbers gradually alternates with pleasant floral notes, with a delicate woody base to finish. Dive into the pulsating atmosphere of New York, which inspired this unique scent.
Hugo Boss Boss Ma Vie
Modern cactus flower, romantic rose with jasmine and finally warm woody notes. The amazing Hugo Boss Boss Ma Vie in a pink bottle was launched in 2014 and is loved by women around the world. Get to know its delicate and tender essences.
Yves Saint Laurent Black Opium
Warm, spicy, distinctive. Yves Saint Laurent Black Opium is a perfume that conceals the aromas of coffee, vanilla and pink pepper. It is a truly exceptional combination with a somewhat mystical effect. It is especially perfectly suited to evening occasions.
Lacoste Pour Femme
Lacoste Pour Femme is a spontaneous and stimulating fragrance with a floral heart, purple notes of violet and driving pepper. It is characterised by the lightness and freshness typical of Lacoste. It will greatly accent the wearer's femininity and sensuality.
Cerruti 1881 pour Femme
Allow yourself to be carried away to fragrant Tuscany and immerse yourself in the intoxicating essence of violets, orange flowers and irises in combination with the distinctive notes of rare woods! Cerruti 1881 pour Femme is a rich, exotic fragrance that is perfect for the autumn and winter months.