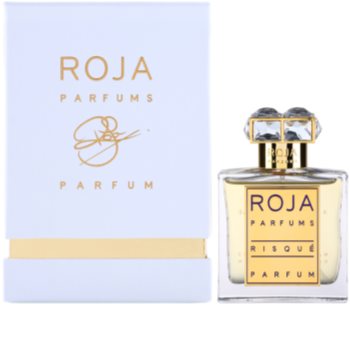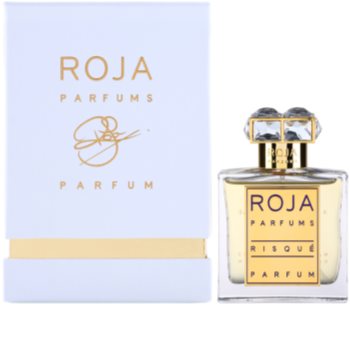 Code:

ROJ0257
|
Over 5 pcs in stock
Posti(GLS) - 4 days to Helsinki, Turku, Tampere
Fragrance description

Roja Parfums Risqué
Risqué is a chypre fragrance for women from Roja Parfums, a British niche perfume brand. Since 2007, Roja Parfums has been offering its customers a brand new concept of luxury and sophistication in perfumery that befits our modern times. It proudly bears the name of its leading personality, one of the greatest fragrance designers in history. Roja Dove is known for using the finest ingredients there are and for his precision and painstaking attention to detail, as well as his personal philosophy of never settling for less than the best. The Roja Parfums Risqué perfume captures the courage to overstep social conventions.
"In making Risqué, I was thinking of how society tells us how to behave, how to think and how to act. And so I made a perfume that seems obliging and polite at first, but which, with every inhalation, uncovers more of its distinctly sensual base, getting warmer, darker and clearer," is how Roja Dove describes the inspiration for Risqué from Roja Parfums. The result is a perfume that "teeters on the verge of the forbidden"…
Risqué from Roja Parfums opens with head accords of bergamot, followed by a heart of hyacinth, Provence rose, jasmine from Grasse, ylang-ylang, chamomile and peach. The foundation anchors the fragrance with patchouli, oakmoss, vetiver, cedar wood and labdanum. The full aroma, inventively combining the aspects of citrus fruit and wood with the earthy character of rose and other blossoms and a refreshing spiciness, is warm, dry and fresh, sweet and slightly leathery.
Bergamot gives Risqué from Roja Parfums a vivacious freshness that balances the perfume's hidden depths, in which oakmoss blends with patchouli, cedar and vetiver, only to give way to the leathery note of labdanum. The composition is sweetened by a touch of peach, jasmine, rose and ylang-ylang, and an almost narcotic note of hyacinth with an unusual touch of chamomile. With Risqué and its extraordinarily intriguing progression, Roja Dove once again proved that his perfumes are worthy of the attention of even the most demanding connoisseurs.
The packaging of Risqué from Roja Parfums is luxurious and subtly elegant. As is the case with all the Roja Parfums fragrances, the bottle Risqué comes in is a masterful, hand-finished piece made in France from the purest glass there is. The gold label is manually embedded in the glass in England and the gorgeous ornate cap, the symbol of Roja Parfums, is hand-decorated with Swarovski crystals. The Roja Parfums Risqué bottle is packaged in a beautiful, lavish box.
Risqué from Roja Parfums is suitable for day and evening wear throughout the year, but it will shine best in the cold months. It will forever win the hearts of all lovers of original chypre and floral fragrances with a strong touch of citrus fruit and wood, as well as all women who like to accentuate their individuality and courage to take a stand against conventions. Risqué from Roja Parfums will envelop its wearer in a complex, fresh and sweet aroma with a fascinating progression that will never fail to arouse attention. Its superior quality and unparalleled luxury in every detail and aspect make Risqué from Roja Parfums the perfect gift for a woman whom you want to treat to only the best.
Roja Parfums Risqué – a remarkably fluid chypre perfume for women who like to live on the edge of social conventions.
Ingredients
Chamomile, Hyacinth, Jasmine, Peach, Rose de Mai, Ylang-Ylang

Cedar, Labdanum, Oakmoss, Patchouli, Vetiver

Fragrance category

chypre, floral
Rating

Roja Parfums Risqué
This product has not yet been rated, be the first!